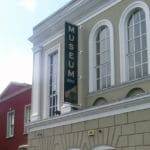 Waterford County Museum is located in the Old Town Hall opposite the Augustinian Friary Church in Dungarvan.
After a meeting was held by the Dungarvan Irish Countrywomen's Association in 1982 it was decided that a Waterford County Museum Society be established to manage the museum. The museum was originally housed in Market house up until 1999 when it was moved to the Old Town Hall. The Hall was built in the late 18th century by Thomas Buckley, a local merchant for the purpose of storing grains. By 1880 the grain stores had fallen into disrepair and were refurbished into a public library and Town hall. In 2009 the museum saw extensive refurbishment which expanded the exhibition space.
The aim of the museum is to collect, document and preserve the History of West county Waterford. The museum itself is split into two areas, the first is for the permanent collections and the second for the temporary exhibits.
The permanent collection consists of artefacts relating to military history such as Captains Badges of the Irish Regiments (1914-1918), trophies and a coin collection. The temporary exhibits cover numerous topics which relate to the local history such as Sport, the famine, maritime history, as well as the war of independence, the civil war, World War 1 and 2.