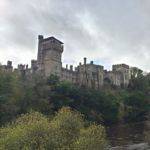 Lismore, another town 24km from Dungarvan, is most famous for the castle that overshadows the entire place. Sitting on the River Blackwater, the castle is owned by the Duke of Devonshire. The gardens and gallery are open to the public, however due to the castle being the private residence of Lord and Lady Burlington and their family, it is closed to the public.
The small town is also home to the stunning Saint Carthage's Cathedral. Built in 1630, the Cathedral is well worth a stroll around, if in the area.
The town is also home to an impressive heritage centre, whose website can provide further details on the town, its history, and things to do there.