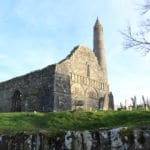 Ardmore is a sleepy fishing village, about 22km from Dungarvan, which in recent times has become a popular tourist destination. It has gained nationwide recognition for its long beaches, hidden coves, restaurants and the five star Cliff house hotel. The village also has a long history, making for an interesting visit.
The villages origins go back centuries, to when St. Declan first landed there in the fifth century. The monastic site of St. Declan is thought to be one of the oldest in the country. Old ruins are scattered around the village and neighbouring countryside, as well as a beautifully well-kept round tower and twelfth century cathedral.
Perhaps one of the most scenic walks in the country (after the greenway of course!) is the 5km long cliff walk. Starting at the round tower, through fields of growing vegetables, it takes the walker onto the cliff-side, where it continues along to Father O' Donnells well, thought to have curative properties. Shortly after are the ruins of an old watch tower, abandoned in 1921. The wreck of the Samson, a crane ship which ran aground there in 1987 can be partially seen above the water level, along with a World War Two lookout. Next up is the Cliff House Hotel, (www.cliffhousehotel.ie) on the right hand side, where magnificent sea views can be seen from their restaurant balcony. Following the sea wall, at the bottom of the hill, opposite the church, one can see St. Declans stone, a large stone which seems to be resting on two smaller stones, rumoured to have been carried on the waves from Wales. Passing through the village and returning back up to the round tower, one can wander around the Saints Oratory, where rumour has it he is buried.
Two Ogham stones can be found in the Cathedral, one of which contains the oldest Ogham inscriptions in Ireland.